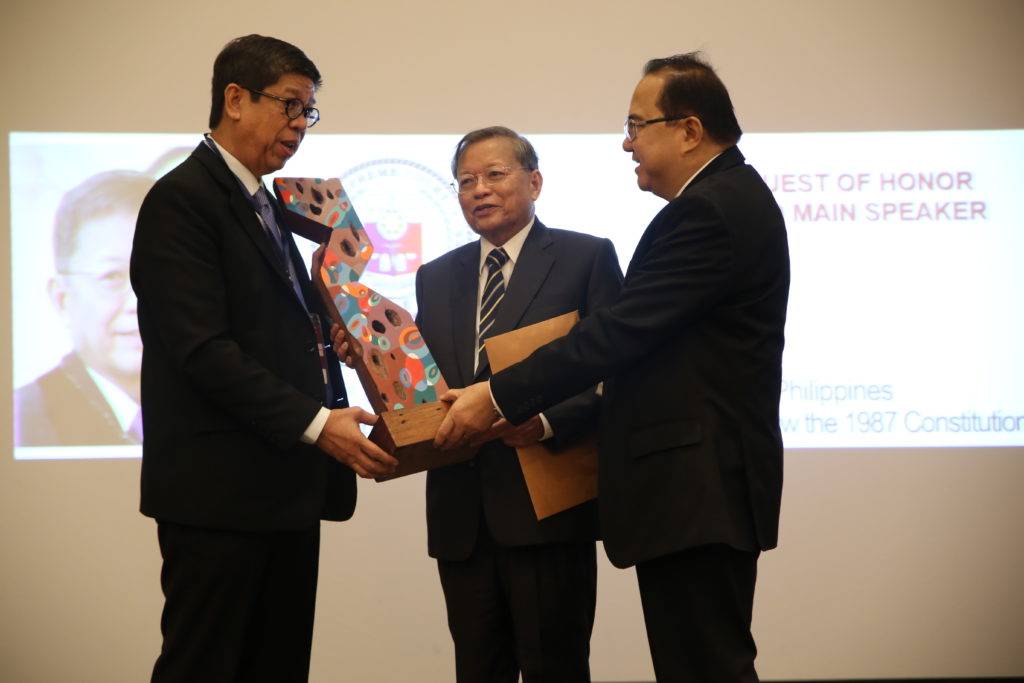 MANILA, PHILIPPINES – The Alpha Phi Beta Fraternity, in partnership with the Asia-Pacific Bar Association and the Asia-Pacific Basin for Energy Strategies, hosted the "Revisiting the 1987 Constitution of the Philippines: The 1st National Forum and Public Consultation" (1NFPC) in the Centennial Hall of the Manila Hotel. Former Chief Justice and Consultative Committee to Review the 1987 Constitution Chairperson Reynato S. Puno '59 was the keynote speaker. He was joined by Philippine Judicial Academy Chancellor Justice Adolfo Azcuna, former Senators Jose Lina Jr. and Heherson Alvarez, Court Administrator Jose Midas Marquez, Dean Pacifico Agabin, Atty. Dennis Habawel, Dr. Temario Rivera, and Atty. Rene Sarmiento who spoke as expert resource persons their respective fields.
The other distinguished speakers include Former IBP President Atty. Roan Libarios, LawAsia Philippines President Atty. Edgar Tarriela, Dr. Victor Abola, DAR USec. Luis Meinradro Pangulayan, CHR Commissioner Atty. Gwendolyn Pimentel-Gana, Dr. Rene Ofreneo, PCC Commissioner Amabelle Asuncion, German Ambassador to the Philippines Dr. Gordon Kricke, French Deputy Head of Mission H.E. Laurent Le Godec, and Dr. Charlotte Justine Diokno-Sicat.
BSP Deputy Governor Diwa Guinginido, Dr. Rosario Manasan, PSE COO Atty. Roel Refran, Dr. Arturo Corpuz, Atty. Roberto Rafael Lucila, and Ms. Bibeth Orteza Siguion-Reyna also shared their views about the proposals of the Committee.
1NFPC served as a forum for the exchange of ideas and positions of all stakeholders on the proposed charter and as a venue for the public consultation of the Consultative Committee before it submits its recommendations to the Office of the President. It was attended by more than 200 participants from the government, private sector, academe, diplomatic offices, among others. The Committee is expected to submit its output to President Rodrigo Duterte on the first week of July, in time for his third State of the Nation Address.